Dr Lachlan Grant – Biography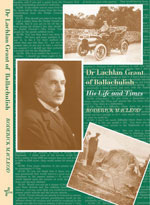 As mentioned in the Oban Times, there was a book launch recently at the Isles of Glencoe Hotel in Ballachulish. 
The book has many connections to Ballachulish Village. It is the biography of Dr Lachlan Grant, a leading influence of the formation of the NHS.  The book has been written by Dr Roddy Macleod from Ballachulish.
Lachlan Grant was brought up in Ballachulish in the late nineteenth century and went from humble origins to become a star graduate of the University of Edinburgh Medical School. He opted for general practice and a return home to the West Highlands, serving them for nearly half a century until his death in 1945.
Copies of this book can be ordered online, just click this link.