The Quarry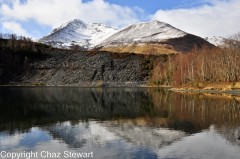 The quarries at Ballachulish are a very large part of the history of our village and community. Slate was first quarried here in 1693, with work continuing until the quarries finally closed in 1955. For more information on the history see the History page.
Roughly three quarters of the material quarried was wasted due to the iron oxide present in the rock, and this waste material had to be disposed of. The close proximity of the sea meant that this was a natural choice, so much of the waste slate was simply dumped on the shore, creating the banks and headlands we have today. The slate wasn't always dumped randomly however, with much of it carefully placed to create harbours and shelter for the boats that carried the finished roofing slates away.
As the East Quarry got larger, so it became more difficult to get the slate from the quarry to the shore. As a result, two magnificent Slate Arches were constructed, with one surviving today and making a memorable landmark at the entrance to the village. These carried inclined planes down to the shore. Also, to be found on the shore, are the unique Ballachulish slate Boatsheds, built by the quarriers to house boats so that they could supplement their income with fishing. Some of these sheds still house boats today.